·
All proceeds from sales of MAC cosmetics Viva Glam go to AIDS charities through the MAC AIDS Fund. This year, the MAC Viva Glam spokeswomen are Lady Gaga and Cyndi Lauper. Great choices in my opinion! Also this year, the lip shades are not deep reds, unlike many past years.
The new VIVA GLAM collection has two lipsticks – Viva Glam Cyndi (Light Coral Red) and Viva Glam Gaga (Light Blue Pink), as well as corresponding makeup bags.
Both MAC Viva Glam shades are quite nice. For the pink lovers, the Lady Gaga is a pretty, but still a bit vibrant light pink. the Cyndi Lauper Viva Glam shade is my favorite though. It is a nice coral red that gives a sheer neutral  to warm rosy red look. It lean toward coral, but not as much as the description would make it seem.
Below are swatches of the two shades. It is a total coincidence that they happened to perfectly match my Hello Kitty Band-Aid. Yes, I really do wear Hello Kitty Band-Aids (blush)!
Here is a better look without the Band-Aid
I suspect that I will be wearing the Cyndi Lauper Viva Glam shade quite a bit this spring.
Lip plumpers are rather hit and miss when it comes to effectiveness. The article below, syndicated from Total Beauty focuses on trying to find the best lip plumpers, which they apparently define as  a "pain free" lip plumper that works. Frankly, I don't think such a thing exists. Lip plumpers that actually work do so by irritating the lips, causing them to swell. Although I would not use the word "pain" for the sensation, the best lip plumpers do tingle and such, some rather strongly! But I actually like the lip plumping sensation.
Anyway, apparently Total Beauty readers don't care for Maybelline Volume XL, which  I happen to rather like because, as far as lip plumpers go, it actually shows some results. They liked Patricia Wexler, which I think is a nice gloss, but not a very effective plumper. In fact the reader favorites tend to be nice glosses, which make for nicely kissable lips, but I don't find them to actually do much plumping. I have not, however, tried the favorite in the list.
Do you have a favorite lip plumper? If so, please share it in the comments!
See which plumpers gave readers full, kissable lips (and which ones did absolutely nothing)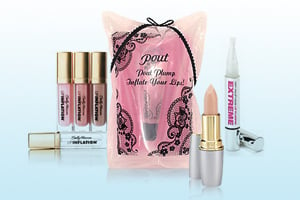 Jealous of Angelina Jolie's lips? Our loyal readers share the lip plumpers that gave them just the right amount of plumping, shine and color, as well as the ones that gave them red, swollen, bee-stung lips. Ouch.