Total Beauty put out this interesting article on long wearing lipsticks. I tend to dislike most of the stain/gloss combos that claim to be long wearing (MAC's version is the big exception—I love theirs). But I do like some of the more standard lipsticks that wear well, such as Dior. In reality, my best wear often comes from a combo of Cat Cosmetics lip liner and Dior or Laura Geller lipstick with a bit of gloss on top. It won't last for hours, but it will wear fairly well, and it won't look awful as it starts to wear off like the stain/gloss long wear combos do!
Real women put them to the test so you don't have to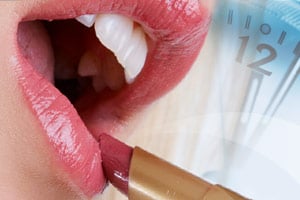 Looking for a lipstick that'll last through your holiday party (not to mention a few trips under the mistletoe)? Well, we've found some for you. TotalBeauty.com had readers try nine different lipsticks that claim to be long lasting in order to find out which ones will really stand the test of time. Check out the results here.