This is a fun, albeit somewhat basic color finder tool syndicated from Total Beauty.  Use it to find your suggest makeup and lipstick shades for both day and evening looks based on your hair color and skin undertone (warm or cool).  I found it kind of fun to play with.
Discover which makeup and hair shades will look best on you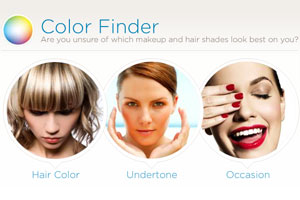 This is a TotalBeauty.com makeup article
This trusty color finder will point you to your most flattering eye, lip and face makeup hues, plus offer up product suggestions.