Lip plumpers are rather hit and miss when it comes to effectiveness. The article below, syndicated from Total Beauty focuses on trying to find the best lip plumpers, which they apparently define as  a "pain free" lip plumper that works. Frankly, I don't think such a thing exists. Lip plumpers that actually work do so by irritating the lips, causing them to swell. Although I would not use the word "pain" for the sensation, the best lip plumpers do tingle and such, some rather strongly! But I actually like the lip plumping sensation.
Anyway, apparently Total Beauty readers don't care for Maybelline Volume XL, which  I happen to rather like because, as far as lip plumpers go, it actually shows some results. They liked Patricia Wexler, which I think is a nice gloss, but not a very effective plumper. In fact the reader favorites tend to be nice glosses, which make for nicely kissable lips, but I don't find them to actually do much plumping. I have not, however, tried the favorite in the list.
Do you have a favorite lip plumper? If so, please share it in the comments!
See which plumpers gave readers full, kissable lips (and which ones did absolutely nothing)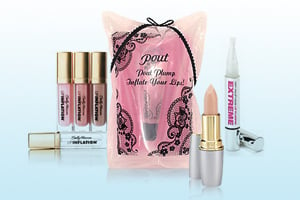 Jealous of Angelina Jolie's lips? Our loyal readers share the lip plumpers that gave them just the right amount of plumping, shine and color, as well as the ones that gave them red, swollen, bee-stung lips. Ouch.